Cristina Palici, BSc (Hons), LicAc, MBAcC, PhD.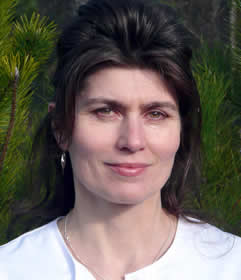 I am a Traditional Acupuncturist and Chinese Medicine practitioner, graduate of the College of Integrated Chinese Medicine in Reading, affiliated to Kingston University.
I have always felt a strong connection with the natural world and the rhythms of nature. Following my natural inclination and my initial work in health care, I developed a deep interest in practices which consider the mind, body and emotional dimensions of an individual. Experience of practicing yoga enhanced this and I was eventually attracted to acupuncture because of its robust methodology, ancient origins and philosophy, and potential for diagnosis and treatment from a holistic perspective. My aim is to help people to be well and stay well using this natural and powerful complementary medicine, which has been used sucessfully with a wide range of conditions. Acupuncture is both a profession and part of my personal journey, which has already led me into unexpected discoveries and reflections.
Before training as an Acupuncturist
From earlier activities, I am an experienced General Nurse and have a degree in Biology. My doctoral research followed, enhancing my range of skills, especially those of observation and analysis, and further developing my understanding of biological processes. This combination helps me to integrate both Conventional and Eastern views/principles of medicine and has deepened my understanding of body functions and the processes leading to imbalance and disease.
Further Training
Diploma in Tui Na -  therapeutic massage for musculoskeletal disorders
Womans health, Fertility (female and male), PCOS & Endometriosis, Assisted IVF, Pregnancy and Birth
Treating allergies and autoimmune conditions

Cancer - supporting those living with and beyond cancer
Channel palpation -using palpation methods to confirm diagnosis and support more effective treatment (Studied in China and Europe with the world renowned Dr Wang Ju-Yi). On-going.
Ear Acupuncture (helps with all conditions, especially addictions)
Cosmetic acupuncture